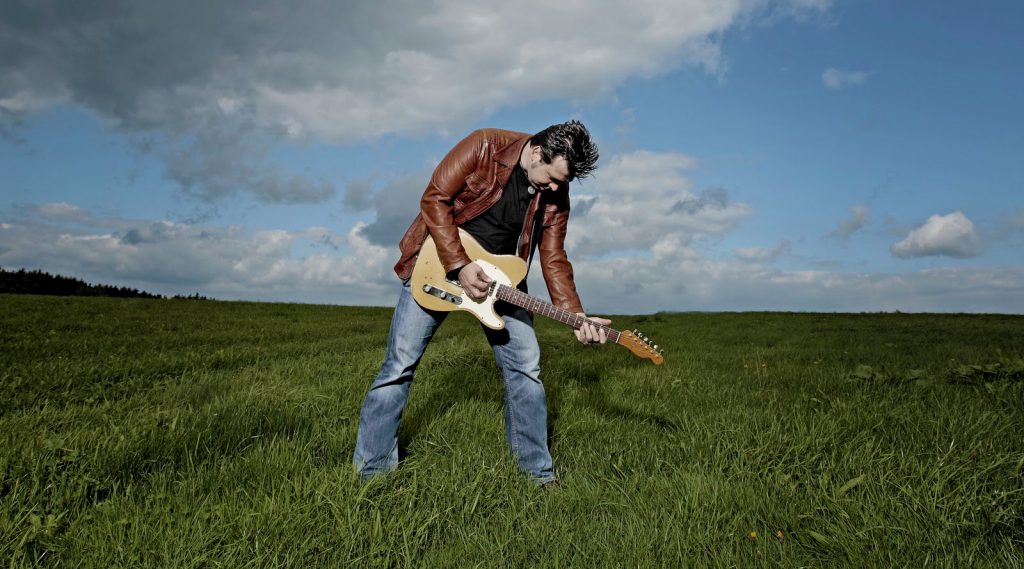 Born in Frankfurt/Germany, Markus Rill is not the most likely candidate to become one of roots music's most interesting songwriters and performers. And yet, over the course of ten studio albums and countless live gigs in all kinds of venues – from the Bluebird Café in Nashville, Tn. to the Country Rendez-Vous Festival in France, from the Colos-Saal in Aschaffenburg to SXSW in Austin, Tx. – that is exactly what he has become.
We're not talking about the fact that he has won major songwriting awards, played with icons like Townes van Zandt, recorded with Nashville's finest, and is racking up accolades by every critic with ears. We're simply talking about the songs, the albums, the performances.
If Tom Waits and Bonnie Raitt pick your songs for songwriting awards, if Rosanne Cash, Texas legend Ray Wylie Hubbard and master songwriter Gretchen Peters recommend your stuff, you've probably got something worthwhile going on.
Rill's current album "Songland" is his finest yet, combining poetic lyrics with soaring melodies and a backbeat that seems to come straight from the American heartland.
Markus Rill's songs are honest and direct yet they contain depth, complexity and subtlety. His rough-hewn vocals convey emotion in an almost backhanded, laconic manner. And his band The Troublemakers are a remarkable, versatile outfit, grasping that some of Rill's songs need dry, no-frills realism while others profit from a more atmospheric approach. Thus Markus Rill & The Troublemakers bring together rock'n'roll, folk, country, blues, gospel and soul to create a refreshingly original Americana sound.
Both the originality and the authenticity of their sound in a clearly American idiom have a lot to do with Rill's origins. The German spent some of his formative years as a young songwriter in Austin, Tx. "I soaked up the music scene, bathed in it, learned from it. It felt like I had come home." The no-BS ethos of the Austin scene appealed to Rill. "Not only did I learn a lot about country music, the blues, about all sorts of roots music, about songwriting, and live performance, I also realized that to be an interesting artist, you have to be yourself." And as Rill matured so did his artistry. "I no longer re-write Steve Earle songs", he says with a laugh. "I have my own stories to tell and my own point of view to write from." Not using generic Americana symbolism like highways, diners and pickup trucks has made Rill's writing leaner and, paradoxically, more universal and more specific at the same time. "If I can create the image of someone sitting home alone at night at his kitchen table, I don't need to say whether he's sitting in Texas or Bavaria. The emotion matters more than the location."
Rill has gleaned some very powerful songs from that approach. Some that make you laugh and jump and dance, some that make you cry, some that make you sit and think. His current album "Songland" has plenty of each.
Hans Hartmann
Some quotes:
"Wenn Markus Rill singt, wenn er sachte mit dem Fuß im Takt wippt und die Augen schließt, dann taucht eine ganze Welt auf, die Welt des Rock'n'Roll. Dazu braucht er nicht mehr als eine Gitarre, ein dezentes Picking, und seine Stimme. Grandios." – Süddeutsche Zeitung
"Er kann mit einigen wenigen Gitarrenakkorden und wohlgesetzten Worten Geschichten erzählen, die wie Short Stories wirken. Und er kann diese Geschichten mit einem markanten Organ zum Klingen bringen, mit schön angeschmirgelten Stimmbändern, die an viel zu lange Nächte in verrauchten Musikkneipen denken lassen." – Frankfurter Allgemeine Sonntagszeitung
"Songs shimmering with beautiful ambiguity … brilliant lyrics" – Rolling Stone

"Rill shows great depth as a songwriter, bandleader and producer" – No Depression/USA

"The talented Markus Rill's brand of singer/songwriter craft would fit comfortably at any Texas roadhouse." – Grammy.com/USA

"Germany's, indeed all of Europe's, most prominent Americana artist. A remarkable songwriter … most striking ballads … surprising insight" – Frankfurter Allgemeine Zeitung

"Song-writing at its very best. Rill has the knack of inhabiting all of the characters in his narratives making the listener 'believe' in the stories. Fabulous tunes and a voice that sounds like it comes from the Americana heartlands." – Maverick magazine/UK
"If voices were highways, Markus Rill's would be gravel … like Steve Earle, Tom Waits and Lucinda Williams, Rill excels at songwriting" – PureMusic/USA

"Sensible Texte von einem starken Mann, die musikalisch erstklassig umgesetzt sind." – Bild.de